Export Emails to Google Docs
Save individual email messages
Save multiple conversations
Automatic continuous save of a Gmail Label to Google Docs
All emails are saved as PDF documents to Google Drive
Your emails are organized by: sender, recipient and the Gmail Label (where applicable).
All email attachments are saved as a PDF as well

Integrated into Gmail No extra software!

Consolidate emails into nicely organized Google Docs
Fully Integrated With Gmail
Export Emails to Google Docs by cloudHQ is fully integrated with your Gmail inbox. You don't have to download anything to your hard drive. Everything works directly within Gmail.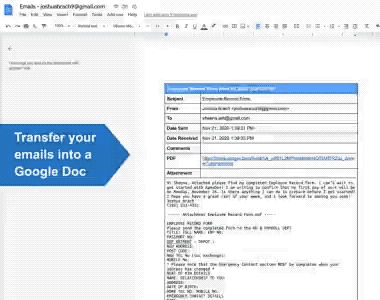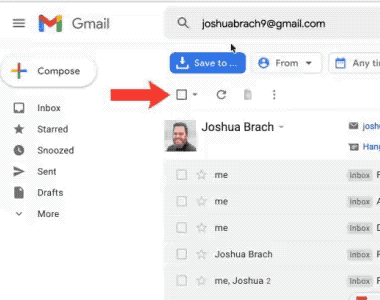 Select Emails to Save to Google Docs
Collect a selection of emails (or an entire Gmail label) to save them to Google Docs. This is necessary for when you want to collect emails by sender, by date, or even by keyword.
Collect Your Emails in Google Docs as a PDF
Once you selected the emails you want to export to Google Drive, simply click on the top blue button that says "Save to" and select "Export Emails to Google Docs."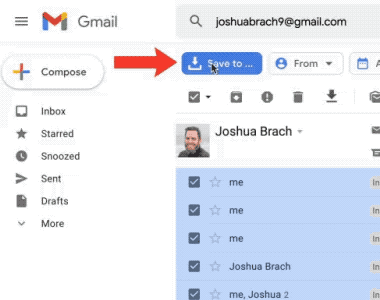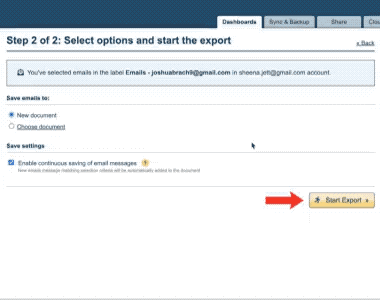 Continuous Export of New Emails to Google Docs
You'll be prompted to save your emails to a new Google Doc, or a pre-existing one. Below that, and most importantly, you'll be able to select "a continuous save" of emails whereby any new incoming emails that match your search criteria will automatically save to your file in Google Docs on a continuous basis. When you're ready, just start your export. *Note: If you don't need a continuous save, simply don't check that option, and your email export will only run a one-time export to Google Docs.
Monitor Your Email Report
You will be able to see your emails being exported into your Google Docs as a beautiful and organized Google Docs email report. They are exported as normal text formatting, and are commentable and shareable with your team.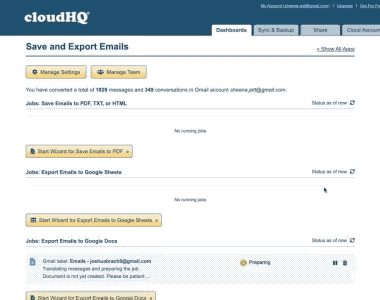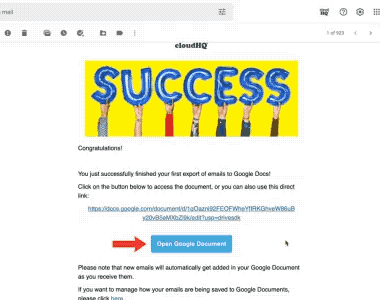 Email Confirmation when Google Doc is Complete
When your emails are done exporting to your Google Doc, you'll get an email confirmation letting you know when it's ready for you to view. Just click on "Open Google Document" to view your beautiful report!
View Your New Google Doc Email Report
Take a look at your new Google Doc report of all the emails that you exported over. It's beautiful, hardly takes any time to create, and is hand over ready to give to whoever needs this report. Never waste any time doing this ever again in the future. Using "Export Emails to Google Docs will keep you organized, impress your management team, and get you what you need to stay on top of your game.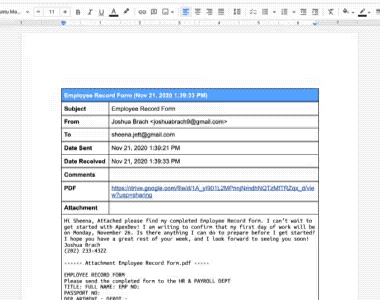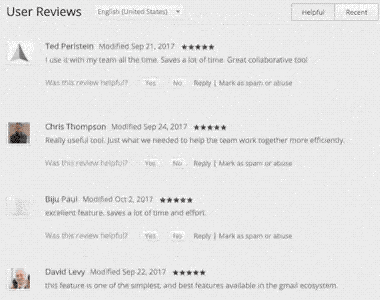 Near Universal 5-Star Ratings
Email Zoom Text Reader has almost universal 5-Star ratings from users who've downloaded it in Chrome.
Installs in Seconds
Install Export Emails to Google Docs by cloudHQ from the Chrome Web Store. Once installed, the app will seamlessly integrate into your Gmail or G Suite email account.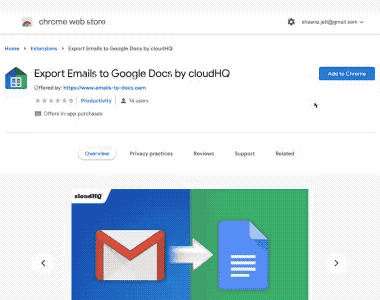 ---
Who Uses Export Emails to Google Docs?
Lawyers
Anyone needing to provide a report to court with emails will want to use Export Emails to Google Docs by cloudHQ. This presents an easy report that can be collated how you like, and collaboration on the report is easy through Google Doc sharing.


Human Resources
Sometimes, you will experience an issue with an employee that requires you to collect all the information around their digital print while at work. Export Emails to Google Docs makes it easy for you to collect all the emails that you need in a neat and organized report.
Education
When it comes time for parent-teacher conferences, sometimes there are a lot of communications between parents and your teaching staff, where an email report would be helpful to have so that you can address these communications in a systematic and organized way with the parents.

Anyone Needing Email Records
If you're needing emails organized in an untamperable format, saving your emails to Google Docs is the best solution for you. This app works efficiently, and understands how to organize your report in an easy-to-read way.